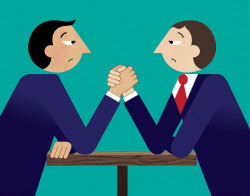 Have you ever negotiated your study? Or do you struggle to feel comfortable demanding more?
PayScale have released a salary negotiation guide, a combination of the best pieces of salary negotiation advice and a survey that features over 31,000 US individuals feedback. The guide also includes more than 15 articles, featuring in-depth analysis from PayScale experts. The PayScale Salary Survey was created to discover the amount of US workers that had ever negotiated their salary, if they were ever successful, and if they hadn't, what held them back.
For example, the guide breaks up into three simple stages the correct way of approaching a salary negotiation: Research, strategise and negotiate. Each stage features articles from PayScale experts, each offering some useful tips for getting the paycheck you're entitled to.
From the study, here are the main takeaways summarised: